If you do not know How To Insert Hyperlink In Blog Comment Blog and you are looking for How to Insert Links in Comments on Blogspot Blog for Backlinks then you are at the right place.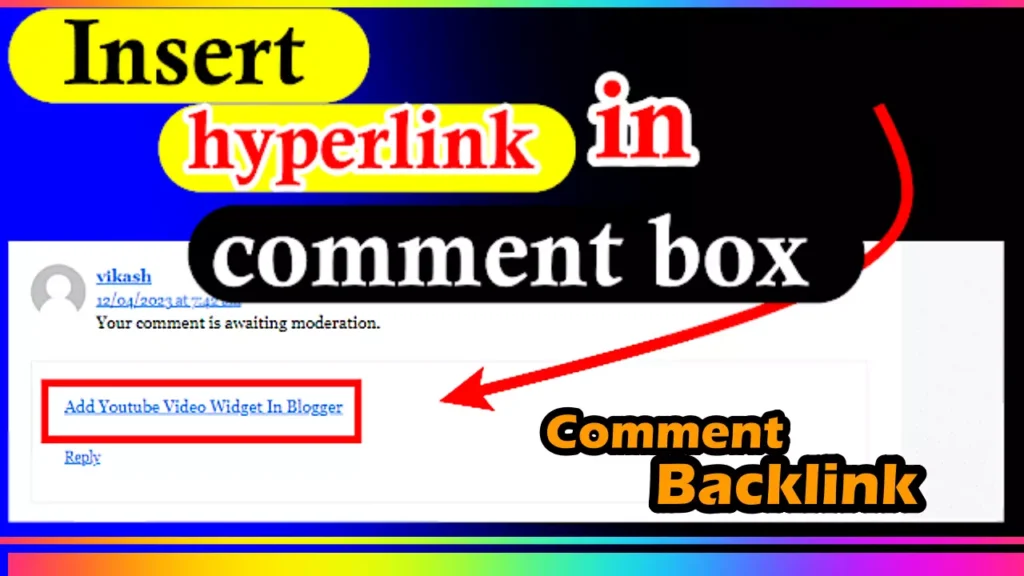 So today in which post I will tell you how you people will add link in comment which we also call back link, that is, you will know in today's post how to make comment back link which is very important for everyone to know.
So that you can rank your post quickly and it is very easy which anyone can do and after reading this post you will not need to read anyone else's post.
What is Insert Links in Comments on Blogspot?
So we call Insert Links in Comments on Blogspot in which when you go to the comment section of someone else's website and comment for your website, but the link of your website is added in it without the URL, in which when someone else will see the comment. So he will see only the text written in which the link will be added.
Meaning, when a user clicks on the text, he will be redirected to your website, then we call it Insert Links in Comments on Blogspot.
What Is Benifits of Insert Links in Comments on Blogspot BLOG
Enhanced User Interaction:
Allowing users to insert links in comments encourages engagement with your blog. Readers can share related resources, provide additional information, or link to relevant content, enriching the discussion.
Resource Sharing: Commenters can share valuable resources, references, or sources that complement your blog post, benefiting other readers who want to explore the topic further.
Backlink Opportunities:
When commenters link to their own relevant blog posts or websites, it can create backlinks to their content from your blog. This can be mutually beneficial, as it increases their site's visibility and can generate more traffic for you as well.
Networking:
Linking to other blogs or websites in comments can foster networking and collaboration opportunities between bloggers and content creators with similar interests.
Community Building:
Allowing links in comments can help build a sense of community among your readers and commenters, as it facilitates the exchange of ideas and resources.
Additional Information:
Links in comments can provide additional information, context, or evidence to support or clarify points made in the discussion.
Diverse Perspectives:
Encouraging links in comments can bring diverse perspectives and viewpoints to your blog's discussion, enriching the overall conversation.
Increased Comment Quality:
Commenters may put more thought into their contributions when they have the option to include links, leading to higher-quality comments.
Content Validation:
When commenters share relevant links, it can validate the accuracy and credibility of your blog post by showcasing external sources that support or reinforce your content.
Traffic Generation:
If commenters link to your blog from their own websites or social media, it can generate additional traffic to your blog.
SEO Benefits:
If commenters include relevant keywords and phrases in their comments and links, it can have SEO benefits by adding relevant content and keywords to your blog post's comments section.
How to Add/Insert Link in Blogspot Blog Comment
So now you have to follow the steps given below
Step 1:- Go to the any website where you want to add link in comment.
Step 2:- Scroll and find comment section option.
Step 3:- Now copy the below html code and after copy replace website link with anchor text from your website url and focus keyword.
HTML CODE:-
<a href="https://mindsetblogging4u.com/">Your Anchor Text</a>
Step 4:- Now you can insert link in any blog comment site and create backlink.
So by following all these steps, you can become a comment Backlink and can add your link in the comment of any website, this is a very easy process which I told you.
Conclusion
So in which post today did you guys learn How to Add/Insert Link in Blogspot Blog Comment which is very easy which anyone can do and it has many benefits as I told you.
And if you are facing any problem then you can tell us by commenting so that we can provide you the solution to your problem only through comment.
And if possible, share this post with your friends as much as possible so that they can also know how to add a link in the comment.
And to see similar content, you can follow our mindsetblogging.com website.