Friends, if you are looking for How to Add Audio File in Blogger Posts then you have come to the right place, then in today's post you will know how to add audio file in Blogger Posts.
In today's post, you will know the easiest way to add such audio file in Blogger which you can play and download.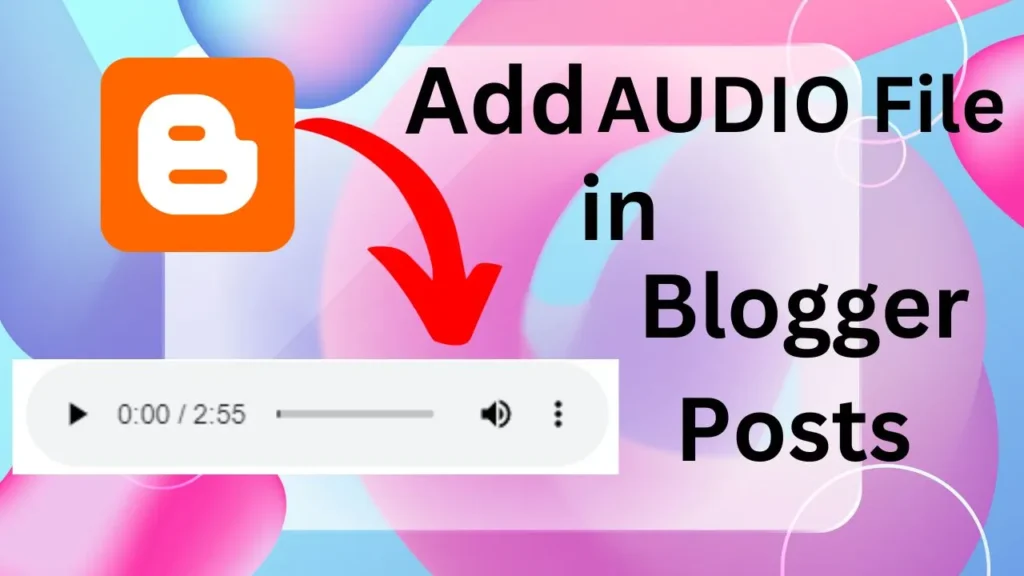 And after reading and understanding this post, you will not need to read anyone else's post because it is explained and explained in the easiest way here, so let us know how to add audio file to blogger post.
Friends, after reading this post, you will not need to read anyone else's post, just understand carefully what I have told you in this post.
What is AUDIO File in Blogger Posts?
We call it as Audio File in Blogger Posts in which when a blogger embeds the audio in the post and after publishing we can play or download it, we call it as Audio File in Blogger Posts.
And it is mostly used for ringtone website. If you have any ringtone website on your blogger then it is very important for you to know HOW TO ADD AUDIO FILE in Blogger Posts which is much easier.
What Benifits of ADD AUDIO File in Blogger Posts
So it has many benefits, so let us know about these benefits when you include audio file in your blogger post.
Enhanced Content Diversity:
Audio files provide an additional multimedia element to your blog, making it more engaging and diverse. They can complement your written content and provide alternative ways for readers to consume information.
Auditory Learning:
Some individuals prefer auditory learning and find it easier to understand and retain information when it's presented in an audio format. By including audio, you cater to different learning styles.
Increased Engagement:
Audio can capture and hold readers' attention more effectively than text alone. It can evoke emotions, set the tone, and create a more immersive experience.
Accessibility:
Audio content can be accessible to individuals with visual impairments or reading difficulties, provided it includes appropriate descriptions and transcriptions.
Multimodal Learning:
By combining text, images, and audio, you can create a multimodal learning experience that appeals to a wider audience and enhances comprehension.
Showcasing Interviews or Podcasts:
If you conduct interviews or run a podcast, embedding audio clips directly into your blog posts allows you to showcase this content seamlessly.
Demonstrations and Tutorials:
Audio can be used to provide step-by-step instructions, explanations, or demonstrations, making it useful for tutorials and how-to guides.
Storytelling:
Audio can be a powerful tool for storytelling. You can narrate personal anecdotes, share experiences, or bring narratives to life through spoken words.
Music or Sound Effects:
If relevant, you can include music or sound effects to enhance the atmosphere of your blog posts, especially if you're writing about topics related to music, film, or sound.
Brand Voice:
If you have a unique brand voice or tone, using audio allows you to convey it more effectively, strengthening your brand identity.
So now that you know about its benefits, you know how we will add the audio file in our Blogger website.
How to Add AUDIO File in Blogger Posts?
So now you have to follow the steps given below
Step1:- Go to google and search googledrive.com
Step2:-  Login google drive & upload audio file from your pc/mobile
Step 3:- Now you have to right click the mouse and click on the option of "Share Link".
Step 4:- After that the "Restricted link" has to be changed and "anyone with the link" has to be selected. And then copy the link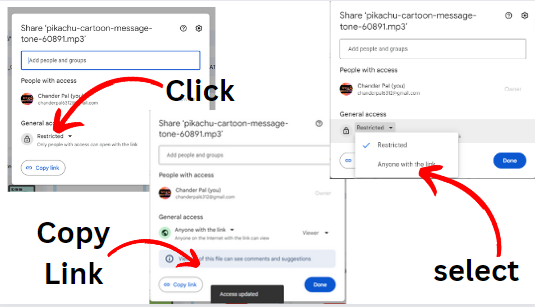 Step 5:- Now copy the below code.
Html copy code:-
<iframe 
src='https://drive.google.com/file/d/1blUyIowvHpBEAGuPwqJTBnYP0IxkSZl4/preview?usp=sharing' 
width='100%' frameborder='0' />
In this code you will get the file ID "1blUyIowvHpBEAGuPwqJTBnYP0IxkSZl4" From this file ID, you have to replace it with the file ID which you uploaded in Google Drive and copied the link.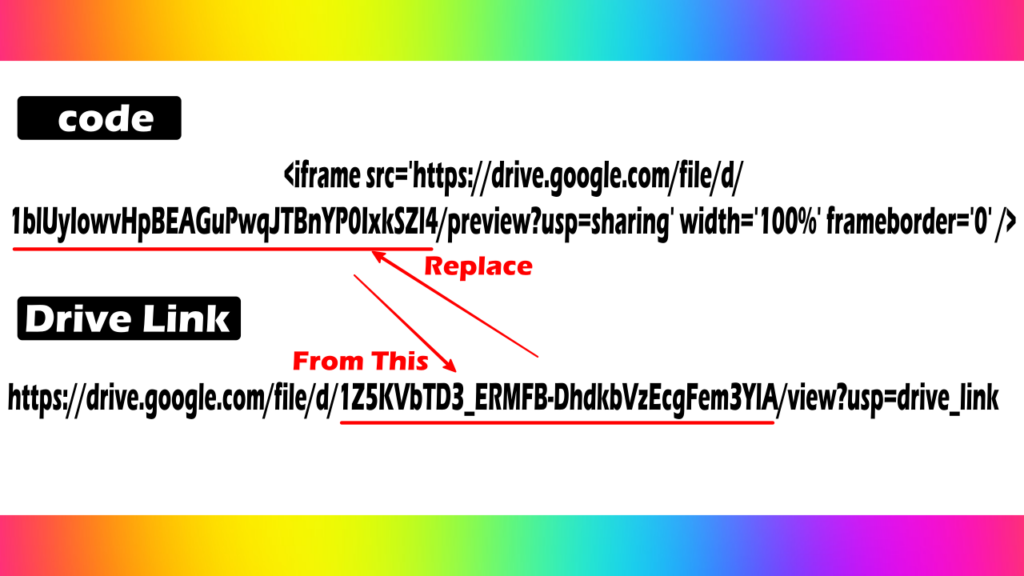 Step 6:-After that paste this code wherever you want in your new post.
Step 7:- Save the theme
So by following all these steps you can easily add the audio file to your blogger website which is very easy.
Conclusion
So friends, you people learned in this post How to Add Audio File in Blogger Posts which was the easiest way, so if you are facing any problem then you can tell us by commenting.
So that we can give solution to your problem through your comment and if possible, share this post with your friends as much as possible so that more and more people can add contact form in their blogger website.
And to see similar content, you can follow this website named MINDSETBLOGGIN4G.COM